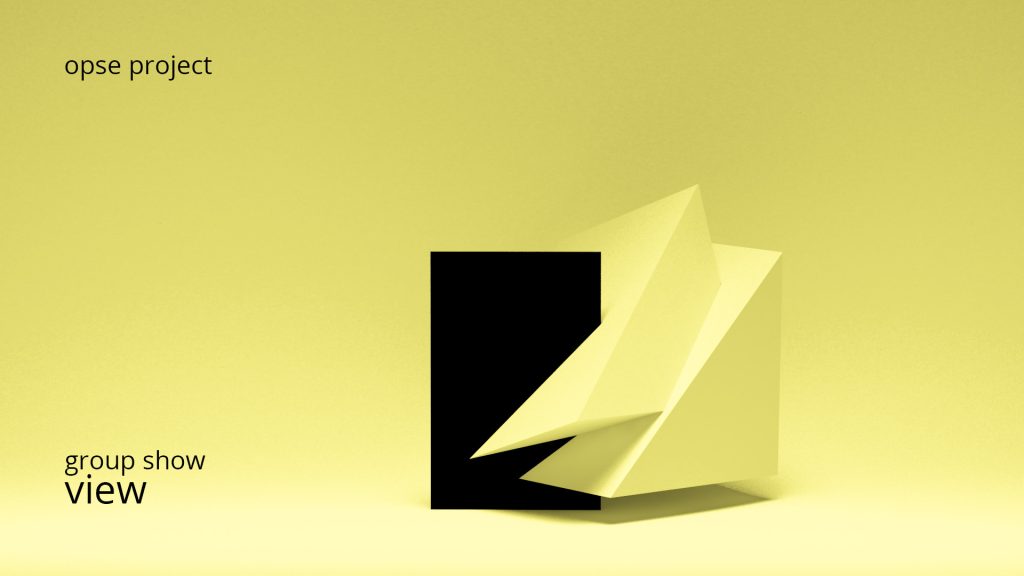 Welcome to the Opse Project art group's first exhibition, featuring a group of visual artists working in the area of Berlin. The Opse Project was founded in 2018 with the aim to create a platform for showcasing their works and connecting with other creative minds. The group's mission is to promote diversity, innovation, and experimentation in the visual arts, and to foster a dialogue between artists and audiences.
In this exhibition, you will see a variety of artworks that reflect different concepts, ranging from figurative, neo-pop art, body awareness to pure abstraction. Each artist has their own distinctive voice and vision, but they all share a common passion for reflecting on current issues of today's society.
Venue
DSTRCT.Berlin
Otto-Ostrowski-Straße 5 · Berlin, DE
The event is listed also in the following sites:
Meetup
Eventbrite
Facebook
Opening Speech
Friday September 15th 2023 at 19:00.
Exhibition Visiting Hours
Friday 15.09.2023 at 16:00-21:00
Saturday 16.09.2023 at 16:00-21:00
Thursday 21.09.2023 at 14:00-19:00
Saturday 23.09.2023 at 14:00-19:00
Organizers
Organizers of the event are the visual artist Miltos Despoudis and the curator Veronika Hykova.
The Selected Artists
HYSTERA [dr alicja pawluczuk]
Ella Taub
Emanuele Crotti
Byautumnlily
Karina Ivanova
Luka Bunic
Miltos Despoudis
Sofia Dimitrova
Thomas Thores Hyman
Vivian Eckstein
More info about each participating artist and the curator is below.
Veronika Hykova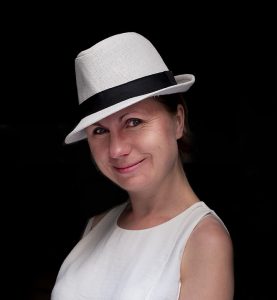 Veronika Hykova (b.CZE, Berlin, DE) is a curator who is influenced by the readings of Walter Benjamin and Michael Foucault. In her curatorial practice she questions the past and present in order to challenge the true image of history especially with focus on identity.
www.temporaryspaceberlin.com/art-curator-veronika-hykova
HYSTERA [dr alicja pawluczuk]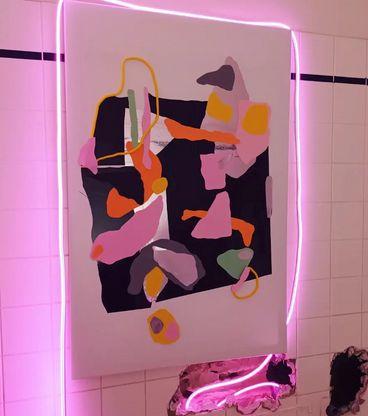 A multidisciplinary artist and researcher whose practice intertwines the realms of art, education, and academia. HYSTERA delves deep into the exploration of her intersecting identities as a digital inequalities researcher, feminist, Eastern European migrant, and invisibly disabled artivist. By embracing participatory, intersectional, and experimental approaches, she aims to create spaces, communities, and artworks that challenge conventional boundaries and spark meaningful conversations about topics such as the gender health gap, disability advocacy [crip], and digital [in]justice and [in]visibilties.
www.hystera.online
www.alicjapawluczuk.com
Ella Taub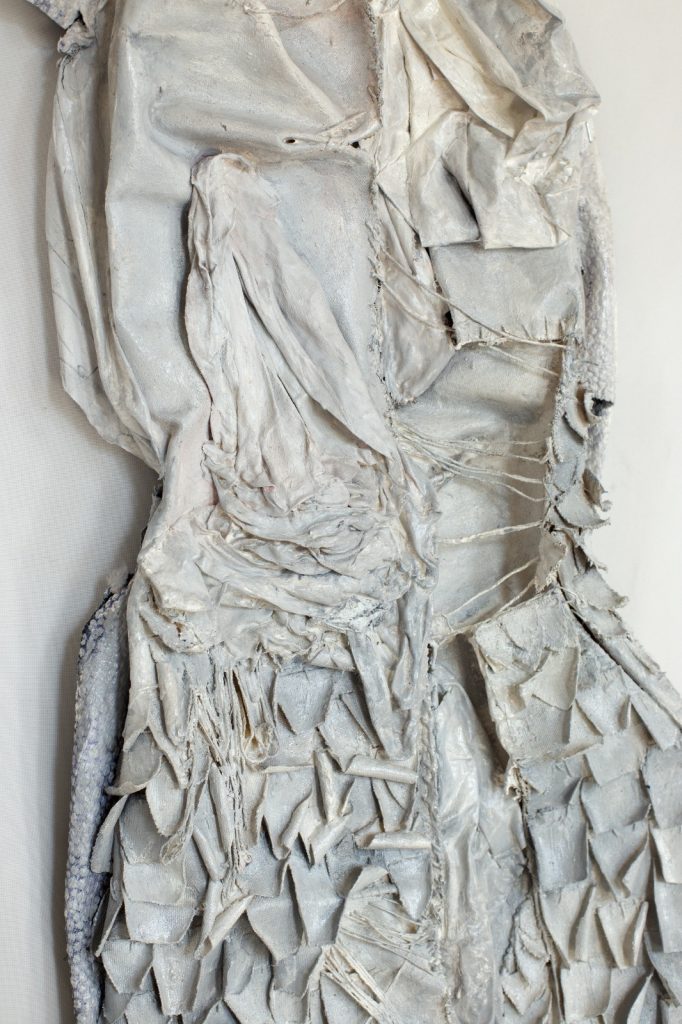 Ella taub (st. petersburg, russia, 1993) israeli artist based in Berlin. Her work revolves around relationships through diverse mediums, threw which she establishing a dialogue between the past and present.
ellataub.com
Instagram @ella__taub
Emanuele Crotti (Italy)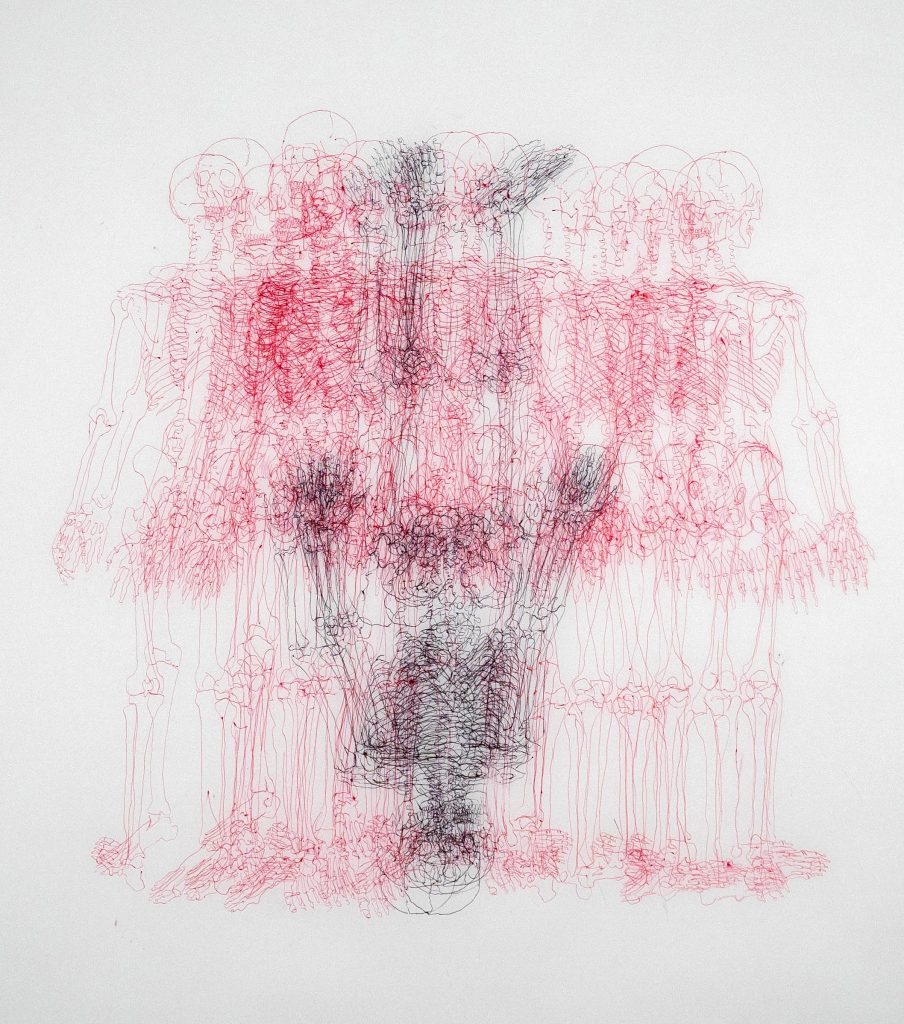 The core elements of my work are like tesserae of a formless, improvised mosaic: when they appear, they multiply and activate a connection between action, time and light. The hands overtake the thought, the process is faster than the design. Self-consciousness is bleached out, the ego burns. Things happen that I did not foresee, I learn things I could not know. Beauty, at last.
www.behance.net/emanuelecrotti
Instagram @kuro_ema
Byautumnlily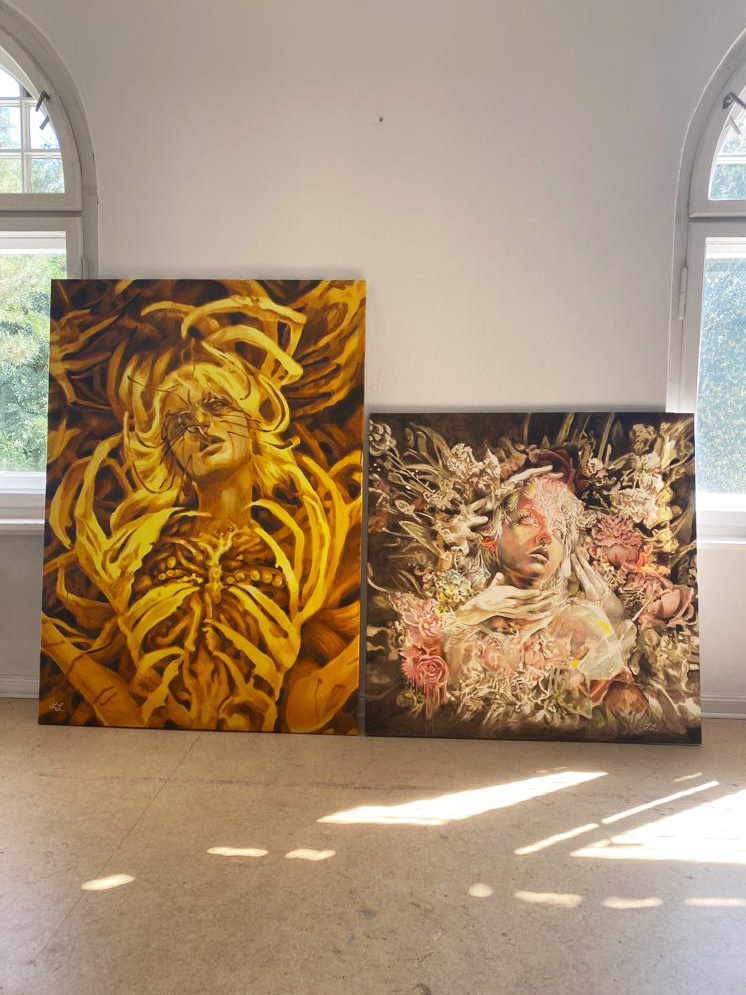 Byautumnlily paints the stories of the soul. Her oil paintings depict people from different walks of life, sharing their experiences of joy, pain, love, and loss. She uses vibrant colors, expressive strokes, and symbolic elements to convey the emotions and memories that shape their identities. Byautumnlily is a 23 year old artist from South Carolina who started painting as a way of coping with her own trauma. She hopes to inspire others to embrace their uniqueness and find healing through art.
Instagram @byautumnlily
Karina Ivanova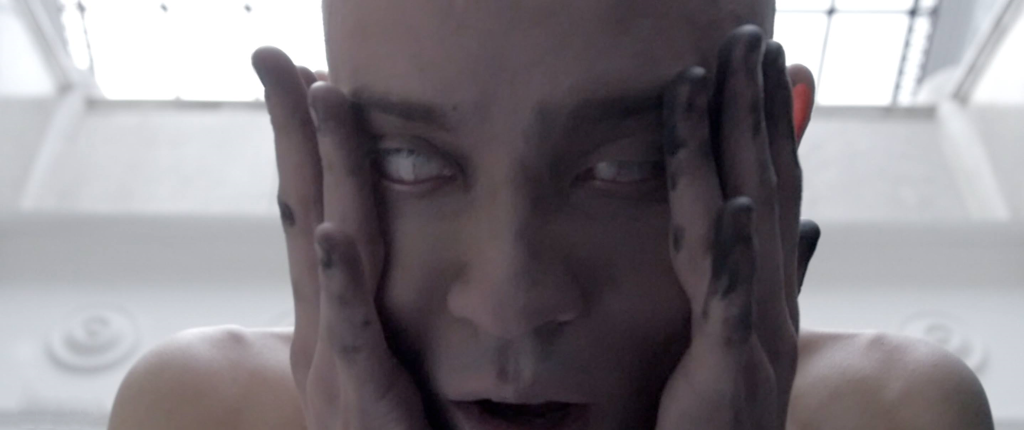 Karina Ivanova is a Ukrainian born multidisciplinary artist who consistently creates highly expressive body of work in Fine Art, Graphics, Photography, Experimental Film and Video Installation, Poetry. Moving from one form of expression to another, Karina's surreal works are often inspired by esotericism and mysticism, nature and eros. In its expression and large role of the unconscious, Karina's art is a unique mixture of Art Brut with a subconscious cabinet of curiosities, representing a strange fantasy world.
www.facebook.com/WorldofKarinaIvanova
Luka Bunic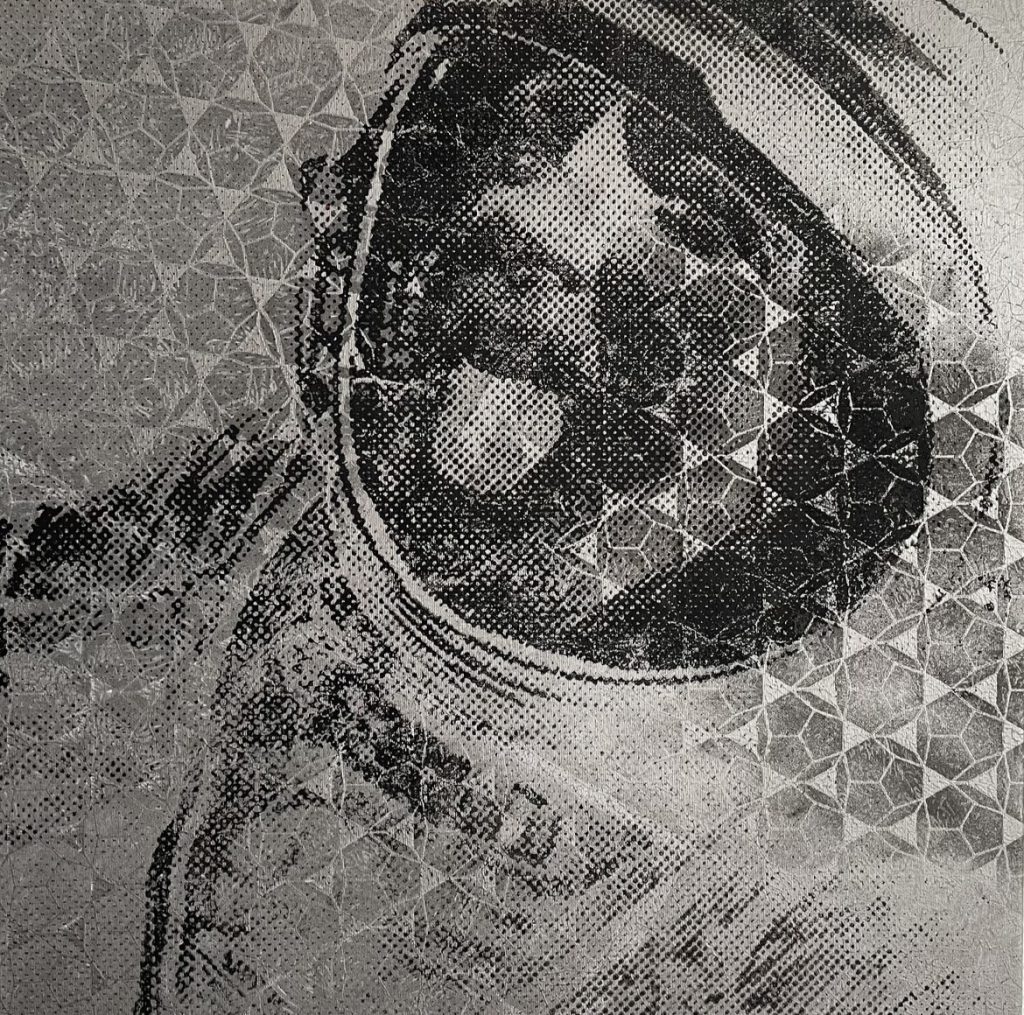 Luka Bunić, born on October 2, 1975, is a versatile artist from Croatia, with a background in graphic arts. He graduated from the Academy of Fine Arts in Zagreb in 2000. His works often combine painting, graphics, video, and sound installations. His diverse portfolio has been featured in both group and solo exhibitions across Europe. Since 2013, he has called Berlin home, where his innovative artwork continues to thrive and enhance the city's art scene.
www.lukabunic.com
Instagram @luka_bunic
Miltos Despoudis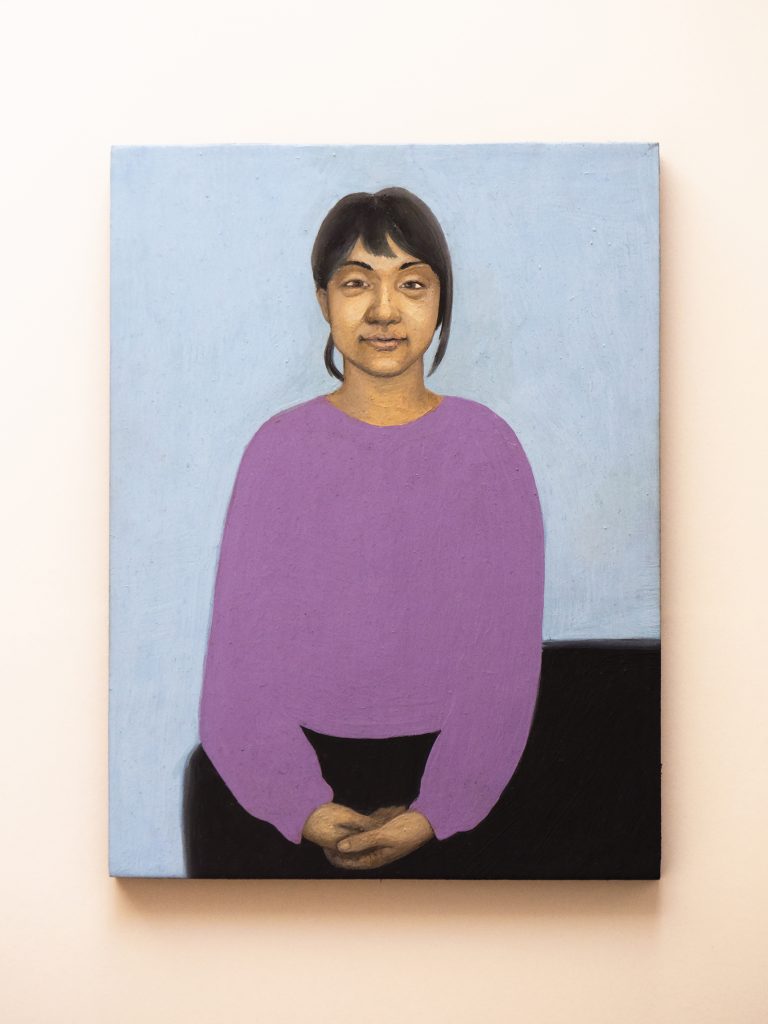 As a contemporary painter Miltos Despoudis explores the idea of visual play in terms of painting and perception: portraits and nudes. He uses contrasting colors, shapes in combination with figurative elements to create lively compositions that invite the viewer's curiosity and imagination. He experiments with different media such as oil, acrylic and watercolors. Some of his recent projects include "Pair Portraits", a series of portraits that juxtapose different facial expressions and the influence of digital effects; and "Post Format", a collection of nudes that play with the element of the artist's inner thoughts in relation to a real life event.
miltosdespoudis.gr
Instagram @miltosthings
Sofia Dimitrova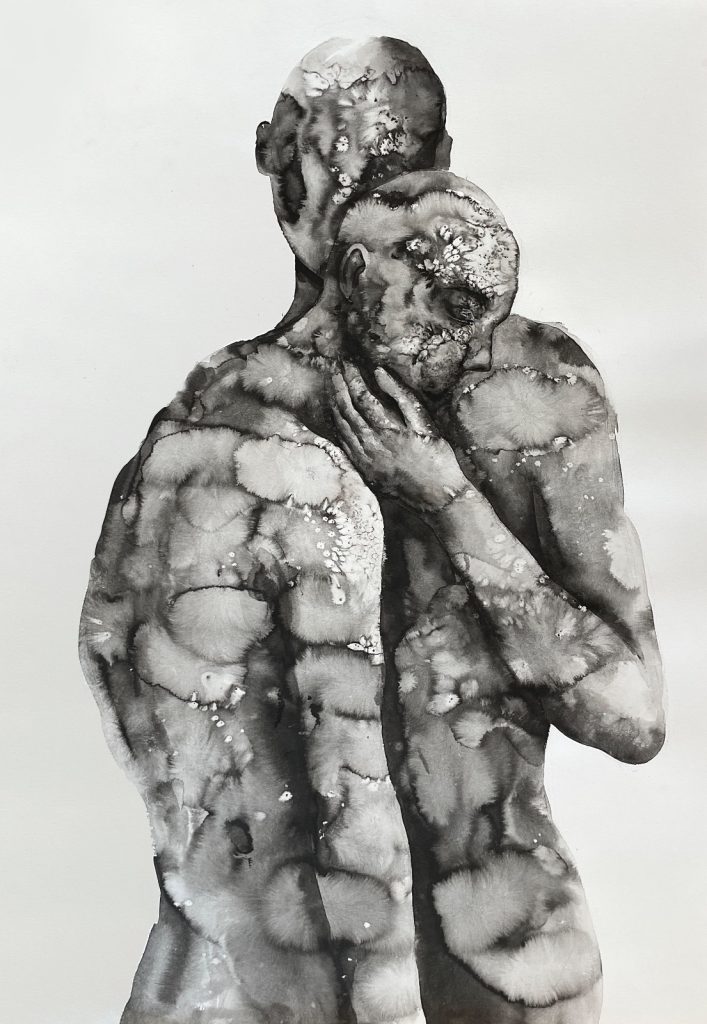 Sofia, a visual artist, primarily employs traditional mediums such as ink, charcoal, and paint to capture the nuanced moods, character expressions, and identities. Her artistic style is characterized by meticulous anatomical studies alongside emotionally expressive pieces. Sofia's figurative artworks blend realism with darker themes, often centered on the human body. Her creations transport viewers into misty dreamscapes, where gravity's constraints feel optional, evoking a simultaneously deeply personal and disquietingly universal experience.
Instagram @sofia__dimitrova
Thomas Thores Hyman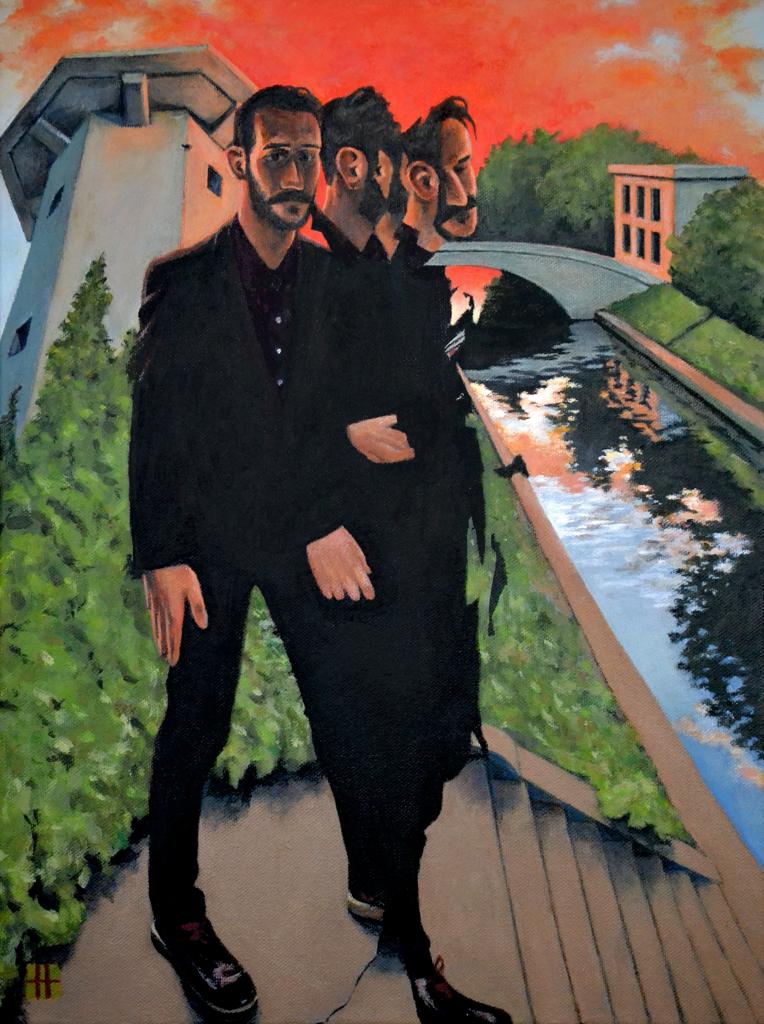 Thomas Thores Hyman is a Scottish figurative painter based in Berlin. His work concerns the junction of dreams and reality, the indivisible nature of the conscious and subconscious and the relationship between traditional and digital image-making. Using the human form as the main vehicle of expression, his subjects often appear fractured, fragmented or distorted in some way, as if torn by indecision, pulled apart by opposing influences or misrendered by faulty code.
www.thomasthoreshyman.com
Instagram @thomasthoreshyman
Vivian Eckstein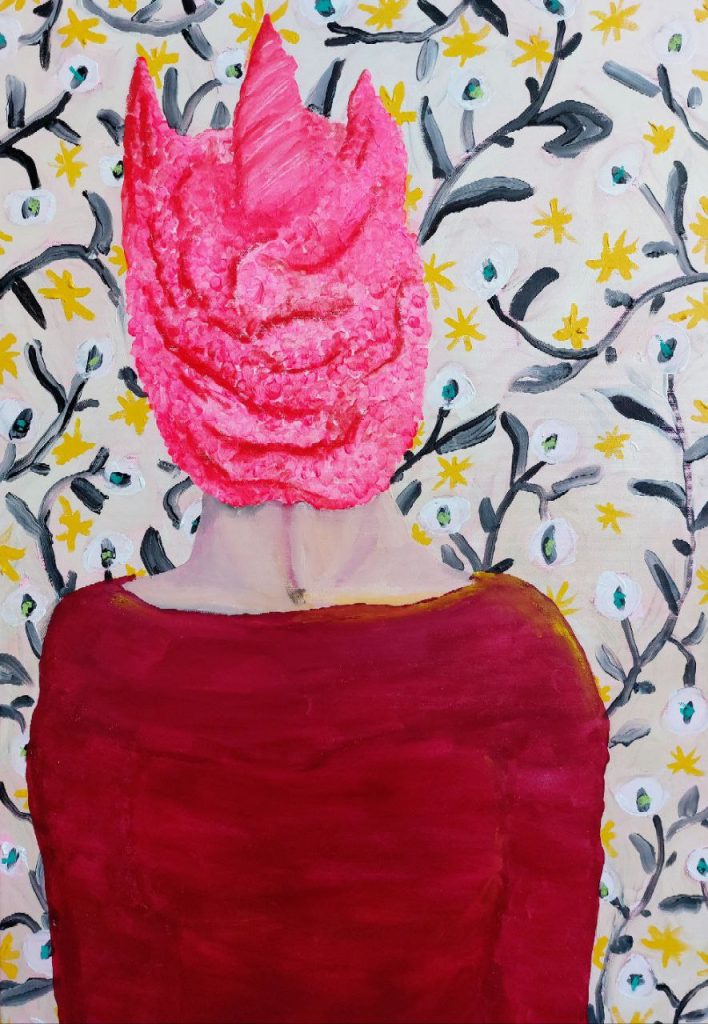 I am interested in the expression of the empowered female and nonconforming body. I work with the ambivalence of perception and identity. Through painting I express inner and outer states of feeling and finding body awareness. I explore identity through depicted figuration, surrealism, colour, symbols, art-historically and/or personally relevant objects, interiors, clothing, sexuality and mythology.
I see my work as layered in meaning and depth. It is possible to enjoy the painted colours, as well as try to guess the meaning of objects, positions and find references towards earlier works of mine. For those wanting to go further, the work holds questions of identity, feminism, gender roles and contemporary societal discourse.
My present focus is to produce coherent series of works between different media. Painting is the starting point and from there the idea is transferred into clothing, masks and costumes, which are handmade by me, intended to be worn and exhibited as installations.
www.vivian-eckstein.de
Instagram @viva.vivante