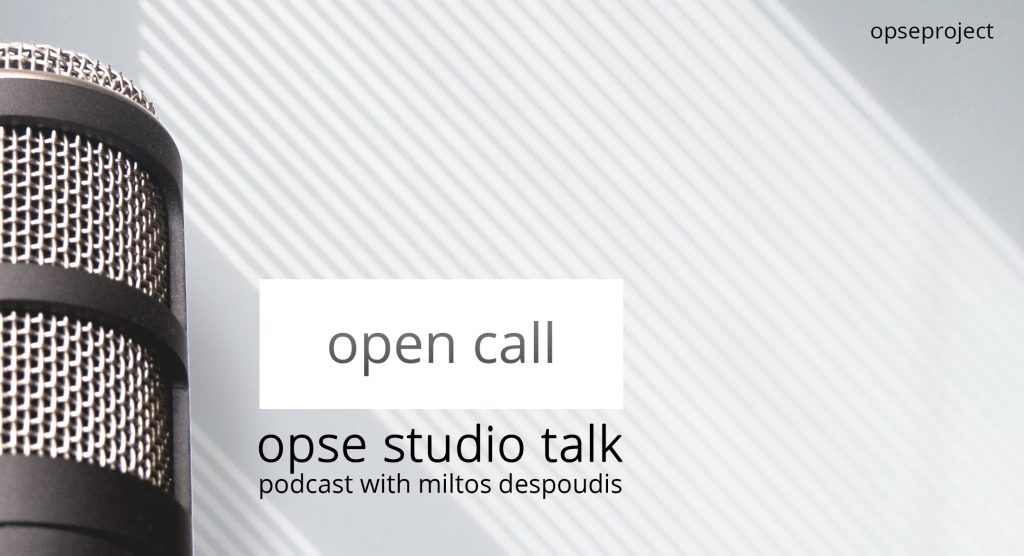 03.01.2021
Opse Project is looking for visual artists living in Berlin that are willing to appear as guests in an upcoming video podcast series.
About the Video-Podcast "Opse Studio Talk"
The podcast series is a one-on-one artist talk. The aim is to learn about how visual artists are thinking and what worries them on an everyday basis. Therefore the discussion will not only focus on the art practice but also on other topics such as the current situation with the pandemic.
The discussion will occur at the artist's studio during a studio visit and there will be a small look around of the space with the artworks. The main speaker will be the visual artist Miltos Despoudis.
About the Recording Session
The guests will given a set of typical questions-topics in advance. The whole recording session will take around 90 mins. The final edited episode will be 10-20 mins long. Lastly, the recordings will be published on all social media accounts of opse project.
You can get an idea of how a conversation might go by checking one of our past projects "preview – visual art presentations" here:
https://opseproject.art/projects/presentations/visual-art-preview/number-3/
Presentation of the Episode
There is the possibility for the episode to be premiered as an online zoom event. With a limited amount of viewers having the opportunity to watch the recorded podcast episode before it is published online. This can be a great way for an live question-answer phase with the artist and the attendees.
What is the purpose?
Listeners and viewers will get to know about visual artists, their art process and their way of thinking.
The featured artists will also get the video recordings of the studio visit for free, a nice addition for their online porfolio. It is good to know that opse project offers professional video filming of studio visits and events as a paid service. More info about it here – https://opseproject.art/services/audio-video-shoots/
Requirements:
-You identify as a Visual Artist and you work in Berlin
-You have an artist's studio.
-You are willing to appear in a audio & video recording.
-You can speak English.
Please Apply with:
-A small paragraph about you.
-A website portfolio link (or any kind of link with a sample of your works)
To this Contact-Form: